Samsung 1.5 Ton 3 Star Inverter Split AC AR18AY3ZBPG
₹ 51,990
Convertible 5-in-1
Inverter Split AC
5.00kW (1.5T)
3 Star
Notice
: Undefined variable: safe_zipcode in
/home/u514301605/domains/fundamental.in/public_html/wp-content/plugins/woocommerce-pincode-check-pro-unl-num/woocommerce-pincode-check.php
on line
14739
Notice
: Undefined variable: pincode in
/home/u514301605/domains/fundamental.in/public_html/wp-content/plugins/woocommerce-pincode-check-pro-unl-num/woocommerce-pincode-check.php
on line
14739
Notice
: Undefined variable: list_products_min in
/home/u514301605/domains/fundamental.in/public_html/wp-content/plugins/woocommerce-pincode-check-pro-unl-num/woocommerce-pincode-check.php
on line
14695
Tri-Care Filter
Keep the air hygienic and maintain the Heat Exchanger's performance with a Tri-Care Filter. Its 3-layers include a high-density filter that extracts large dust particles, fibers and animal hairs. A Zeolite Coating Filter also captures fine dust, and eliminates viruses, bacteria and allergens.
Easy to clean filter
Easy Filter Plus
Keep your air conditioner working efficiently with less effort. The Easy Filter Plus is located outside, on the top, so it can easily be taken out and cleaned. Its dense mesh keeps the Heat Exchanger clean.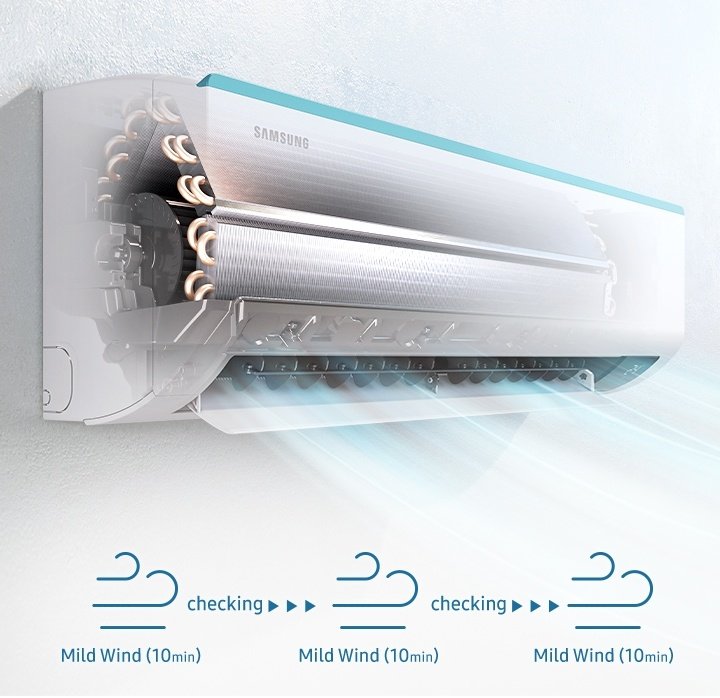 Simply cleans itself – automatically
Auto Clean
When the air conditioner is turned off the Auto Clean function automatically runs a fan to remove dust and moisture in the heat exchanger. So it stays clean and dry, which prevents the growth of bacteria and mildew.
Environmentally friendly refrigerant
R32 Refrigerant
Protect the planet by reducing the impact of climate change. The air conditioner uses the next generation R32 refrigerant, which helps conserve the ozone layer and has a low impact on global warming compared to conventional R22 or R410A refrigerants. So it's much more environmentally friendly*.
* Tested on R32 refrigerant compared with Samsung conventional refrigerants R410A and R22.
Stable and durable in harsh conditions
Triple Protector Plus
Enjoy a long-lasting performance in challenging environments. Triple Protector Plus technology prevents damage from power surges and fluctuating electrical currents. Its anti-corrosion coating also protects the condenser and cabinet in harsh conditions.
Sleep much better throughout the night
Good Sleep
Good Sleep mode creates the desirable climate for a good night's sleep. With its temperature control, it keeps you comfortable, so you fall asleep fast, sleep deeply, and wake up refreshed.
| | |
| --- | --- |
| Brand | Samsung |
| Model | AR18AY3ZBPG |
| Capacity | 1.5 Tons |
| Annual Energy Consumption | 1700 Watts |
| Noise Level | 45 dB |
| Installation Type | Split System |
| Special Features | Dust Filter, Dehumidifier |
| Colour | White |
| Voltage | 230 Volts |
| Wattage | 1700 Watts |
| Material | ABS |
| Included Components | 1 Indoor Unit, 1 Outdoor unit, 1 user manual and warranty card, Connecting Tube (3 m), Connecting Wire (3.5 m),Remote,Batteries (AAA |
| Batteries Required | No |
| Manufacturer | Samsung India Pvt Ltd |
| | |
| --- | --- |
| Shop by Category | |
| Shop by Star Rating | |
| Shop by Tonnage | |
Notice
: Undefined variable: safe_zipcode in
/home/u514301605/domains/fundamental.in/public_html/wp-content/plugins/woocommerce-pincode-check-pro-unl-num/woocommerce-pincode-check.php
on line
14739
Notice
: Undefined variable: pincode in
/home/u514301605/domains/fundamental.in/public_html/wp-content/plugins/woocommerce-pincode-check-pro-unl-num/woocommerce-pincode-check.php
on line
14739
Notice
: Undefined variable: list_products_min in
/home/u514301605/domains/fundamental.in/public_html/wp-content/plugins/woocommerce-pincode-check-pro-unl-num/woocommerce-pincode-check.php
on line
14695
Notice
: Undefined variable: safe_zipcode in
/home/u514301605/domains/fundamental.in/public_html/wp-content/plugins/woocommerce-pincode-check-pro-unl-num/woocommerce-pincode-check.php
on line
14739
Notice
: Undefined variable: pincode in
/home/u514301605/domains/fundamental.in/public_html/wp-content/plugins/woocommerce-pincode-check-pro-unl-num/woocommerce-pincode-check.php
on line
14739
Notice
: Undefined variable: list_products_min in
/home/u514301605/domains/fundamental.in/public_html/wp-content/plugins/woocommerce-pincode-check-pro-unl-num/woocommerce-pincode-check.php
on line
14695
×